NovAtel Inc has announced the GPS-713-GGG-N and GPS-713-GGGL GNSS antennas. These antennas are able to track multiple constellations and have enhanced Inmarsat rejection. This feature is great for applications near Inmarsat transmitters that are typically found in marine environments.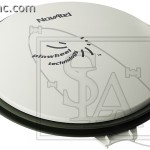 Tracking
GPS
GLONASS
Beidou
Galileo
L-Band (GPS-713-GGGL-N)
 Features
Pinwheel Technology – Choke Ring functionality in a small package
Highly stable phase center
Enhanced Inmarsat rejection
RoHS compliant
Rugged enclosure
For more information or pricing, contact us.