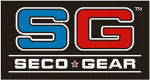 Digital camouflage and public safety bags and cases can now be purchased through Steve Lieber & Associates Inc.
Digital camo products range from garment and duffel bags to parachute and medical backpacks. The digital pattern provides better cover than traditional camouflage. This is due to the way it mimics patterns and borders found in nature.
Public safety bags and equipment for fire, police, EMS, etc. are essential for transportation of critical tools and gear. Public safety bags are typically made in bright colors such as red or yellow. This is great for high visibility and recognition in high traffic/stress situations. High quality equipment bags are required for rough and continued use in all types of conditions. Seco Gear meets the high standards required for public safety and military uses.

Some of the camouflage gear available:
AWOL Gear Bag
Parachute Bag
Hanging Garment Bag
Military Helmet Bag
Soft Side Computer Carrying Case
Medical Backpack
Duffel Bag
Some of the public safety gear available:
11 Point Backboard Strap
Deluxe Duffel Bag
Extrication Gloves
Out-of-County Gear Bag
Turnout Gear Bag
Tote Bags
SCBA Mask Ez-Snap Pouch
More information can be found through our products page under Seco Gear.